Miroslava Munguia Ramos
CALeDNA Project Manager
Miroslava received her B.S. in Environmental Science and Management with a minor in Wildlife, Fish, and Conservation Biology from UC Davis in June 2019. During her time at Davis, her research included interspecific carnivore interactions on the Channel Islands, nitrogen emission monitoring of the entire campus, and seasonal habitat preferences of Tanzanian ungulates. She interned in the Wayne lab the summer of 2017 to help select, pool, and extract environmental DNA from CALeDNA coastal samples. She remained active in the lab by hosting BioBlitzes in Northern California through the UC Davis SEEDS chapter. Now as project manager, she helps engage the community with talks and hosting events and remains involved in several CALeDNA research projects. Her interests include wildlife conservation, predator-prey interactions, and public outreach.
LinkedIn: https://www.linkedin.com/in/miroslava-n-munguiaramos/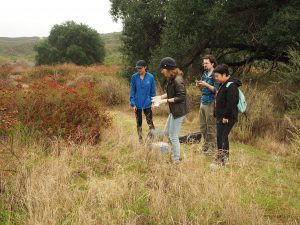 Current and Past Work
Miroslava is currently the project director of Protecting our River, a collaboration across UCLA, UC Santa Cruz, and LA County NGOs to monitor the Los Angeles River and its tributaries' biodiversity. Over 90% of the LA River has been channelized to reduce flooding, yet only a fraction of its native biodiversity is understood across the entire watershed. With the help of existing organizations, Protecting our River will provide a database of relevant biodiversity data for anyone, regardless of their scientific background, can understand and enjoy. Pilot results reveal surprising biological communities in both unaltered and highly urbanized environments.
She is working on hosting virtual events that can keep the community involved in eDNA in place of physical gatherings. All are invited to submit pieces of artwork, writing, or creative media to describe their experiences and perspectives regarding the LA River.
Funding for this project has been generously provided by Metabolic Studios.
Selected Publications
Meyer, R.S., Curd, E., Schweizer, T., Gold, Z., Ruiz, D., Shirazi, S., Kandlikar, G., Kwan, W.Y., Lin, M., Freise, A., Moberg-Parker, J., Munguia Ramos, M., Shapiro, B., Sexton, J.P., Pipes, L., Garcia Vedrenne, A., Palacios Mejia, M., Aronson, E.L., Moore, T., Nielsen, R., Lewin, H., Barber, P., Wall, J., Kraft, N., Wayne, R.K. (2018). The California environmental DNA "CALeDNA." In press. https://doi.org/10.1101/503383
Grants and Awards
Ecological Society of America (ESA) SEEDS (Strategies for Ecology Education, Diversity, and Sustainability) Travel and Conference Grant, May 2019
Animex Fencing Scholarship Co-Recipient, The Wildlife Society Western Section Annual Conference, Jan. 2019  ($1000)
UC Davis Department of Land, Air, and Water Resources Departmental Citation
Andy Goldfarb Scholarship Recipient, 2015-2019
UC Davis Club Finance Council Grant, 2017-2019 ($1500)
ESA Events Award, 2018 ($1000)
Hispanic Scholarship Fund (HSF) Scholarship Recipient, 2015, 2016, 2018